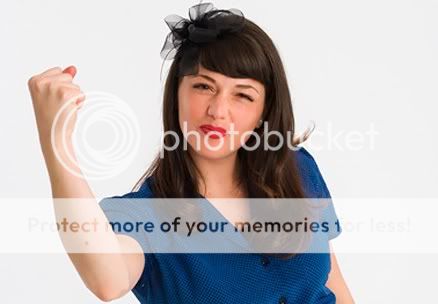 Former Project Runway contestant and finalist, Kenley Collins, continues being useless months after the cameras have stopped rolling. She is laughing off her recent jail sentence for allegedly beating her ex-fiance, Zak Penley (Yes, had they married her name would have been Kenley Penley). She insists her two days behind bars were "hilarious." Douchebag.
Kenley Collins was arrested on March 17 2009 and charged with two counts of assault, criminal possession of a weapon and harassment for throwing her cat (!!!) and a laptop computer at Zak Penley at his apartment in Brooklyn, New York.
The 26 year old pleaded guilty to disorderly conduct and was jailed in April. She was also fined $120 and handed a two-year protection order prohibiting her from contacting her Penley.
She tells the New York Post "Jail was really funny. I get thrown into this cell with like 25 girls, and half of them know who I am, so it is really hilarious."
Tim Gunn does not approve of this fuckery.