I know I'm late on posting these, but I've been busy. To make up for this, I've included some candids from the Vanity Fair party.
Let's start off with the big trend of the evening: ivory. Everyone wore it and everyone that didn't- well, they just don't matter (sorry Angie, you did look lovely, witchy, but lovely). The second, statement jewellery or keeping it simple- everyone did one or two pieces and left the dazzle up to their dress. The third: trains, tails and mermaids- if you don't know what I'm talking about, why are you reading this blog?
I thought Anne Hathaway did an amazing job in Rachel Getting Married. Although she lost to Kate (whose YSL gown haunts my life), her dress won my heart for the evening. It didn't photograph as well as it should but the beauty is in the details. The semi-transparent paillettes cascading towards the bottom of her Armani gown are romantic, intricate and everything Oscar fashion is supposed to be- glamorous.
Marissa Tomei- for an actress nominated for a role that required little clothing, I think her dress is the definition of couture. This Versace number, pleated in all the right spots, really set the tone for her- whether she won or not- she's back in the spotlight for all the right reasons.
Maria Elena wouldn't be caught dead in this outfit- but Penelope doesn't seem to mind. This vintage, elaborately laced gown by Balmain Haute Couture screamed winner the second she stepped onto that carpet. Perfection.
Taraji P. Henson. Simplicity done correct. Simplicity is also hard to come by when it's designer Roberto Cavalli you're wearing. The clean lines and silhouette of this gown, the hair and statement necklace work so well.
I love SJP. This dress stole the show from anyone else who wasn't nominated. This Vintage Couture Dior gown is a dream. Sweeping and magnificent. She should have worn this to marry Big. Yes?
Evan Rachel Wood wearing Elie Saab. The colour, the pose, the hair, the look, the pout- great gown to end her fabulous reign during award season.
The pitiful
You can take the girl outta the trailer, but you can't take the trailer outta the girl. I don't know what she thought she was attending, but Little Miss pageant this isn't.
Jessica Biel looked as though she fought someone, had rough sex and a long night of binge drinking (in that order of course) before she showed up the show. The dress isn't terrible- but the hair, clutch, shoes (they were close-toed black abominations) and posture made me cringe with second-hand embarrassment. She couldn't walk in the dress. Miley has the "I'm young," excuse- what's yours? After another look, yes the dress is terrible. I digress.
Candids from the Vanity Fair after-party.
Angelic and DVF talking shit (probably about Kate Winslett).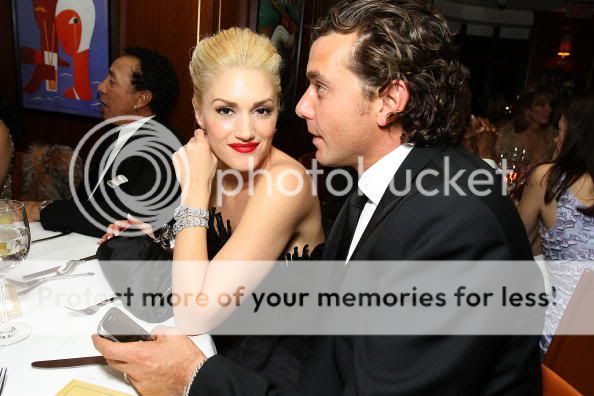 Gwen: fresh, fab and forty. No Doubt tickets go on sale March 7th. Gavin's her best accessory.
One last thing: Hugh Jackman nailed it! I take back what I said about him earlier. He was fantastic and would love to see him next year and actually, maybe he should stop acting all together and just host award shows. Amazing.